Yoga, Meditation and Mindfulness at the Beach in Renesse, Zeeland

suitable for everyone
SILENCE AND DESTRESSING
We ervaren momenteel veel stress in onze westerse maatschappij. In het hoofd zitten en teveel gedachten hebben is soms lastig. Verstilling en onthaasting is dan fijn.

Tijdens dit weekend wordt de juiste aandacht en concentratie getraind om in het moment aan te komen en om van hieruit te gaan leven.

We gaan dit weekend voelen, ervaren en helder krijgen waar we wel en waar we geen energie van krijgen in ons leven en hoeveel tijd wij eraan willen besteden.

About the retreat
What is the programme?
Where is the retreat?
Who leads the retreat?
What do you get?
What does it cost?
+ About the retreat
(Click to expand)
What can you expect?
The starting point of the weekend is stillness, depth relaxation, energy building, insight, knowledge and wisdom. In addition to individual inner vision, there is also room for sharing and connecting with each other if you wish.

During this yoga & amp; mindfulness weekend retreat different yoga techniques and mindfulness meditations are combined to bring depth to yourself and to experience how both reinforce each other in operation. You will become acquainted with a mix of hatha yoga, Tibetan yoga, Chi Kong, mindfulness, meditation and breathing exercises. The retreat is for both beginners and advanced.
For whom?
For adults and a parent with 1 child from 14 years. The retreat is suitable for beginners and advanced students. With Yoga, meditation, breathing exercises and mindfulness you cannot start early enough and form a good foundation for the rest of your life. With these methods you stay or come in good contact with your authentic self. This is an interesting topic for adults but also for children. A child is often in puberty looking for who am I, what can I do and what do I want. How do I want to position myself in the world? That is why we offer the possibility that a parent comes with 1 child, from the age of 10 years. The whole family is not supposed to come because then the focus is too much on the family rather than on itself, the group and making the way in to your real self.
Theme of the retreat:
stress reduction, concentration, recovery from burn out, being present in the moment, acceptance, letting go, being in place of doing, recognizing your automatic thinking and behavioral patterns / automatic pilot.
Mindfulness helps with:
stress complaints, recovery from burnout, concentration problems, fatigue, addictions, pain, insomnia and severely disturbing emotions such as anger and fears.


Yoga provides ...
a healthy and relaxed body, thus paving the way for a deeper inner look and feel. We examine and experience our three bodies: the physical body (attitudes), the energetic / emotional body (feeling) and the mental body (thinking). With power, inspiration and connection as a starting point, you learn through yoga and mindfulness exercises to recognize and understand your automatic thinking and behavior patterns. Through the insights during these lessons you are able to better shape your life and to broaden your consciousness. This way you learn to function more effectively, both at home and at work.

Throughout the weekend you can enjoy a nice collection of yoga books and magazines, nature walks, get to know inspiring people and you can you use the environment for your stillness. In between, delicious vegetarian meals are prepared.
Number of participants
Min. 8, max. 20 participants.
+ What is the programme?
(Click to expand)
Program
Friday
14.00 Arrival + Room distribution
15.00 Introduction round, explanation of the program weekend + mindfulness exercise.
16.00 Yoga
17.30 Raw food Snack
18.30 - 19.30 Vegetarian dinner
20.00 - 21.30 Meditation + Mindfulness exercises  
Saturday
07.30 Yoga, various styles
09.00 Breakfast
10.00 Silent walk on the beach
12.00 Coffee & tea break
12.30 Lunch (vegetarian)
13.00 Leisure time + Massages
16.00 Satsang: Mantra singing + life questions from the participants of the teacher
17.30 Raw food Snack
18.00 Outdoor campfire
18.30 Dinner
20.00 Meditation + mindfulness exercises
21.00 Tea
22.00 Good night
Sunday
07.30 Yoga
08.30 Breakfast, in the dining room  
10.00-12.00 Meditation + mindfulness
12.30-13.00 Lunch  
13.00-15.00 Leisure time + massages  
15.00-16.00 Tour of Bye Bye yoga & meditation, mindfulness & singing bowl concert
16.00- Tea and Good trip!
+ Where is the retreat?
(Click to expand)
Hotel De Zeeuwse Stromen Renesse ****
Hotel & De Zeeuwse Stromen convention center is located on the beautiful dunes and within walking distance of the pleasant center of Renesse. De Zeeuwse Stromen is your hospitable home base to discover   Zeeland   experience. An inspiring environment, wonderful hotel rooms,   extensive facilities , the excellent kitchen and cozy bar making the Zeeland Streams your home, far from home. With the beach, the dunes and your own beach pavilion   the Port of Renesse , you can really relax here or be particularly active.
Want to discover De Zeeuwse Stromen in 3 minutes? Then view our   video .
Our 4-star hotel has 78 hotel rooms in the main building and the congress center. In addition to our main building, we also have 26 dune apartments, 22 dune rooms and 9 dune villas in our Dune Park.
+ Who leads the retreat?
(Click to expand)
Hans Kloosterman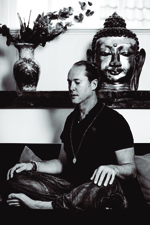 Hans Kloosterman is a Tibetan Buddhist and studies at the Tibetan Kagyu Vashrayana Institute in Huy, Belgium, which has a small monastery community with a few llamas, monks and nuns. He lived for six years as a training monk and has been studying Buddhism since 2005. From 2000 to 2005 he followed the 3-year hatha training and 2-year meditation training at Osmose in The Hague. He teaches classical hatha yoga, Chi Kong and stillness, analytical and non-dual meditation, namely shamatha, vipassana and samadhi.
In mindfulness training he teaches people to be fully present in everything they do and to become aware on three levels: physical, emotional and mental. The 8 week mindfulness training 1.0 for beginners becomes data according to MBSR training by Jon Kabat Zinn. Hans himself has written a follow-up: Mindfulness 2.0, where Vipassana meditation and the development of the 10 virtues, including compassion, are central.
He organizes yoga & mindfulness workshops, training and travel at home and abroad.
Hans is the author of the bestseller book 'From snob to monk'. His calling is: "Discovering your True Self". See also   www.hanskloosterman.com .
Thérèse van den Akker  
The massages that I offer during the Hans Kloosterman retreat are based on the
Rebalancing vision.
By being touched in a conscious, attentive way, you can experience what's on that
moment in you.
You thereby come more into the now, which already entails immediate relaxation.
What is great about this way of touching is that you get more out of your head, the feeling of you
body and what it has to say to you is the first thing you are invited to
is becoming.
The invitation to feel your body more consciously and to embrace everything that presents itself
space and clears up. In this space you can experience your essential Being.
I work from my intuition, sometimes they are soft, subtle techniques and sometimes deep, strong ones
techniques.
I cordially invite you to make your inner journey during a Rebalancing session.
From 2002, Thérèse van den Akker gives Rebalancing sessions at her practice in Epe.
It is affiliated with the Rebalancing Netherlands platform.
Contribution for her massages; 60 euros for 1 hour and 90 euros for 1.5 hours
+ What do you get?
(Click to expand)
You will receive ....
during this weekend retreat
• 2 nights in a private room & nbsp;
* 2 yoga & mindfulness lessons per day
• Mindfulness workshops on how to increase your awareness and energy level
• Tranquility (Shamatha) & amp; Insight meditation (Vipassana) & amp; Non dual meditation (Samadi)
• Silent periods, for example during nature walks, some lunches and meditations
• Unlimited water, tea, coffee and fruit
• 3 vegetarian meals per day
+ What does it cost?
(Click to expand)
Costs and Data
The cost for this weekend is 399 euros including VAT (full board) based on a single room. The Bestseller book " from Snob to Monk " can be purchased and signed on the spot by Hans. Price: 19.95.
Signing up
You can sign up for the following dates
Fri 29-11-2019 - Sun 01-12-2019
Sign up
Fri 31-01-2020 - Sun 02-02-2020
Sign up
Way of payment
You can wiretransfer the amount to the bankaccount noted in your confirmation e-mail after you have signed up.
If you are in possession of a dutch Bank account, you can pay through iDeal. After you've signed up you will receive an automatic confirmation email in which the payment details and an iDeal payment link is included. If you can, please try to pay with iDeal as it diminishes the administration time. Using iDeal will automatically process your payment. If it's not possible you can wire transfer the amount. See the bank-details on the invoice or watch under my website/contactdetails. Many thanks.
Click on the Sign up button to proceed to the sign up form.
Upcoming Retreat
Date
Fri 29-11-2019 -
Sun 01-12-2019
Why this retreat?
Very experienced Teacher
High ratings (> 9)
Full board
4 star Location
Aanstaande Retraites
Yoga, Meditation & Mindfulness Weekend on the Beach 'Stillness'
29-11-2019 - 01-12-2019 in Zeeland
We are currently experiencing a lot of stress in our Western society. Being in the MIND and having too much thoughts is sometimes difficult. Silencing and destressing is more than welcome. This is especially possible near the beach of Renesse. During this weekend, the proper attention and concentration will be trained to arrive in the moment and to live from it. 
Silence Weekend and contemplative retreat Yoga, meditation and Mindfulness in the Veluwe
20-12-2019 - 22-12-2019 in Heerde, Veluwe
We look back on the past year and contemplate the next year 2020. What do we want to continue with, stop and start?
We spend the weekend in silence. You get yin yoga to still more still and go inside. We meditate to increase the mind's ability to concentrate and thereby still the mind. Afterwards the mind is ready to question through analytical questions of insight or the Vipassana meditation method.
There are silence walks, vegan meals and relax massages.
Yoga, Meditation & Mindfulness Weekend on the Beach 'Silencing'
31-01-2020 - 02-02-2020 in Zeeland
We are currently experiencing a lot of stress in our western society. Sitting in the head and having too many thoughts is sometimes difficult. Stillness and relaxation is nice. During this weekend the right attention and concentration is trained to arrive in the moment and to start living from here.
Download het Burned-out E-book
Vol met Tips om burn-outs te voorkomen en te genezen!