YOGA & MINDFULNESS 5-DAY SUMMER RETREAT 'LIVING FROM YOUR HEART'
Open your heart
We will focus on the heart this midweek. The heart is central. We are in the head too much and live less and less from the heart. We are going to open the heart and remove blockages on the heart chakra. This way you can fully enjoy
keep yourself and make the optimal connection with the other person out of free will and love it just as much. Then there is no duality but wholeness and then you live from the heart in unity, love, light, freedom and joy.
The beautiful virtues such as love, compassion, passion, natural kindness and joy live in the heart. We are going to work on a good balance between belly, heart and head. Learn to make contact with the silence and softness of the heart. The heart distributes the energy to the lower 3 chakras and the upper 3 chakras
Info
Program
Where
Teachers
Costs
How are we going to do that?
• Yoga, Chi Kong and Taoist physical exercises aimed at opening the heart.
• Meditations and mindfulness exercises to activate and increase the heart qualities / virtues, the so-called 4 transcendent virtues from Tibetan Buddhism.
• Dance the heart sutra dance.
• To treat the Prajna paramita, the wisdom of the heart, the heart sutra of the Buddha. Form is emptiness and emptiness is form. Sing the mantra that comes with it.
• Hridaya mantra + mudra to surrender to the deep level of consciousness present in the heart.
• Pranayama / breathing exercises to balance the abdomen, heart and head, as well as transformational breathing to remove blockages in the heart.
• Communicate from the heart: practice open dialogue from the heart, learn to communicate non-violently.
Yoga takes care of...
a healthy and relaxed body, thus paving the way for a deeper inner vision and feeling. We examine and experience our three bodies: the physical body (attitudes), the energetic / emotional body (feeling) and the mental body (thinking). With power, inspiration and connection as a starting point, you learn through yoga and mindfulness exercises to recognize and understand your automatic thinking and behavior patterns. Through the insights during these lessons you are able to better shape your life and to broaden your consciousness. This way you learn to function more effectively, both at home and at work.
During the entire midweek you can enjoy a nice collection of yoga books and magazines, nature walks, meet inspiring people and you can use the environment for your tranquility. In between, delicious vegetarian meals are prepared.
Number of participants
The minimum number of participants in this retreat is 8, the maximum is 30.
At this retreat there is a choice of different Ayurvedic massages:
Ayuvedic head massage
Head, neck and shoulders are important energy centers in our body. By accumulating stress, this area can stiffen, which in turn causes other complaints. By the massage technique, by means of pressure points, also called weel marma points, the blockages can be lifted. We use specific head massage oil for this treatment. Duration of treatment: 40 minutes. Costs 40EUR.
Ayuvedic foot massage
With the Vital copper foot dish, with Ghee, and spice paste. Ghee is clarified butter from which the proteins have been removed. It contains no carbohydrates and sugars, and it is lactose free. Ghee is also used in Indian cuisine. The footrest, along with the Ghee, has a relaxing and strengthening effect on the body. The foot massage is part of the Ayurveda; the traditional Indian health theory. The copper in the shell supports the cleaning effect of the massage technique. Duration: 30 minutes. Costs: 35EUR
Abhyanga
This is a total body massage with warm oil, adjusted to your body constitution. The type of oil is determined before the treatment. The body massage technique uses pressure points, also called marma points. This way, blockages in the body can be removed. It provides relaxation, relieves pain, and promotes the production of oxytocin (hug hormone), and serotonin (happiness hormone). Duration: 60 minutes. Cost: 60EUR.
+ Program
(Click to expand)
Program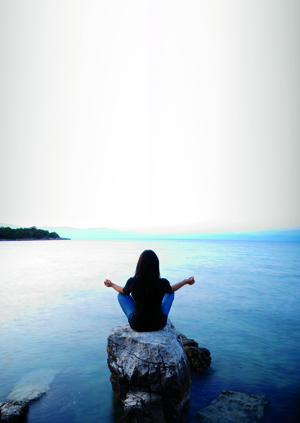 The sessions to be followed are not mandatory. Take your relaxation if you feel that you need it. All meals are vegetarian.
Monday
14.00 Reception and distribution of rooms
15.00 Introduction
16.00 Hatha Yoga on the heart + Chi Kong
17.30 Break
7 pm Dinner
20.00 Meditation on love & kindness, equanimity, compassion and joy.
21.00 tea
22.00 Good night
Tuesday
7.00 Yoga on the Psoas muscle, discharge, release of old tension and unrest.
8.15 Breakfast
9.30 Silent walk through the woods
10.50 Coffee & tea break
11.00-12.00 Mandala drawing from the heart. How does your heart feel now? + discuss.
12.00 Lunch
12.30 Karma yoga
13.00 Free time
16.00 Pranayama / breathing exercises. Solve blockages around the heart. Where does it flow and where does it not flow?
17.30 Snack
7 pm Dinner
20.00 Meditation on the heart / love from Buddhism
21.00 tea
22.00 Good night
Wednesday (Silent day)
7.00 5 Tibetan Yoga, Healing sounds of the Tao
8.15 Breakfast
9.30 Blockages on the heart, what stops you from opening your heart / living from your heart? Or what is needed to open your heart / to live from your heart?
10.50 Coffee & tea break
11.00-12.00 Meditation on your life path / life from the heart
12.00 Lunch
13.00 karma yoga
13.30 Free time
16.00 Yin yoga on the heart
17.30 Snack
7 pm Dinner
20.00 Prajna heart / wisdom parameter sutra of the buddha + mantra singing
21.00 tea
22.00 Good night
Thursday
7.00 5 Tibetan Yoga, Healing sounds of the Tao
8.15 Breakfast
9.30 Walking in the nature
10.50 Coffee & tea break
11.00-12.00 Mindful communication
12.00 Lunch
13.00 Free time
16.00 yin yoga
17.30 Snack
18.00 Attending Tibetan prayer
7 pm Dinner
20.00 Meditation on your life path / life from the heart. This is what I really want!
21.00 tea
22.00 Good night
Friday
7.00 Various Yoga, summary
8.15 Breakfast, in the dining room
9.00 Clean up rooms and put things in the car
10.00 Share, deepen and connect + Discuss drawing / mandala +
11.00 Action list to start living from your heart.
11.30 Singing bowls concert
12.00 Lunch
13.00 Tea and Good trip!
+ Where
(Click to expand)
PLACE: TIBETAN INSTITUTE IN HUY, Belgium
International participants: fly to airport at Brussels or Liège. Rent a car at the airport or take the train to the city of Huy (60 min). At the station you can choose a bus or a taxi to the Tibetan Institute (15 min)
+ Teachers
(Click to expand)
Hans Kloosterman
Hans Kloosterman has gained much of his knowledge and skills as a monk in a Tibetan monastery and studies body and soul from Buddhist and Hindu philosophy and way of life.
The last 5 years Hans has supplemented his knowledge with partial certificates in Western psychology, mainly focused on stress reduction, burnout and trauma processing.
This background combined with 25 years of entrepreneurial and management experience in the fashion sector in the purchasing, sales and recruitment and selection departments makes Hans a special teacher and coach.
Hans is the author of the bestseller book 'From snob to monk'. His calling is: "Discovering your True Self". See also  www.hanskloosterman.com .
Hans Flierboom 
Rebalancing & coaching
"On the massage table the quality of the touch is paramount. It is full of contact and with attention to what is there, without having to do anything directly with it. This supports you to get deeper into the experience you feel, you go more feeling instead of thinking. This creates awareness and insight into your emotional life and associated patterns. "
The motto
Badhoevedorp area
Telephone: 06 51600147
Email: info@delijfspreuk.nl
Contribution for his massages; 60 euros for 1 hour and 90 euros for 1.5 hours
+ Costs
(Click to expand)
You get during this midweek:
* 4 nights in a shared room (room only for an additional charge)
* Silent periods, for example during nature walks, some lunches and meditations
* Unlimited water, tea, coffee and fruit
* 3 vegetarian meals per day
* Holistic massage (not included in the price)
For an additional charge of € 10 per night you can only reserve a room. This of course as long as stocks last ...
In the free time in the program there is the possibility to book a massage.
Price: 60 euros for 1 hour, 90 euros for 1.5 hours. Payment for this takes place on the spot in cash.
Specify in the comments field, during registration, if you are interested in this. 

Cost
The cost for this week is 695 euros incl. VAT (full board).
In addition, there is also a choice of various comfortable living areas, however, an additional price is charged per week for this:
| | |
| --- | --- |
| Double room (2 single beds) to be used as a single room with a shared bathroom and toilet | Surcharge € 80,-- per room |
| Large studio with private bathroom and toilet | Surcharge € 160,-- per room |
| Renting a set of sheets (duvet + pillow are available) | Surcharge € 9,-- per person |
The Bestseller book "from Snob to Monk" can be bought on site and signed by Hans. Price: 19.95.
Signing up
You can sign up for the following dates
Mon 27-07-2020 - Fri 31-07-2020
Sign up
Way of payment
You can wiretransfer the amount to the bankaccount noted in your confirmation e-mail after you have signed up.
If you are in possession of a dutch Bank account, you can pay through iDeal. After you've signed up you will receive an automatic confirmation email in which the payment details and an iDeal payment link is included. If you can, please try to pay with iDeal as it diminishes the administration time. Using iDeal will automatically process your payment. If it's not possible you can wire transfer the amount. See the bank-details on the invoice or watch under my website/contactdetails. Many thanks.
Click on the Sign up button to proceed to the sign up form.
Upcoming Retreat
Date
Mon 27-07-2020 -
Fri 31-07-2020
Why this retreat?
Very experienced teacher
Highly rated (>9)
Full-board
Aanstaande Retraites
Yoga, Meditation & Mindfulness Weekend on the Beach 'Silencing'
31-01-2020 - 02-02-2020 in Zeeland
We are currently experiencing a lot of stress in our western society. Sitting in the head and having too many thoughts is sometimes difficult. Stillness and relaxation is nice. During this weekend the right attention and concentration is trained to arrive in the moment and to start living from here.
Yoga and Mindfulness Winter 4-day Retreat 'Stress Reduction' in the Schouw
02-03-2020 - 05-03-2020 in Zeeland
Stress, Burnout and Depression have only increased in recent years. We have too much in this society! During this retreat specially focused on burnouts you learn everything needed to prevent a burnout, but also to cure it.
Ayurvedic weekend with Yoga & Meditation and Mindfulness on the Hoorneboeg country estate 'Stillness and Balance'
03-04-2020 - 05-04-2020 in Hilversum
Bring your body and mind back into balance with an Ayurvedic weekend through Yoga, meditation, mindfulness, walking in nature, ayurvedic food and ayurvedic massages. We restore the connection between your body and mind and restore the balance with the elements ether, air, fire, water and earth. In addition to tips and advice, we also sell Ayurvedic oils that fit your constitution.
Download het Burned-out E-book
Vol met Tips om burn-outs te voorkomen en te genezen!